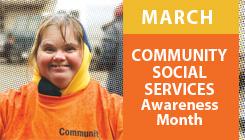 March is Community Social Services Awareness Month
This multi-union campaign is working to raise awareness about the vital role community social services play in our communities, and in the lives of the people HEU members support.
As a result of ongoing cutbacks and under-funding throughout the sector, waitlists for services have grown, programs have closed, and there is now a full-blown recruitment and retention crisis across the sector.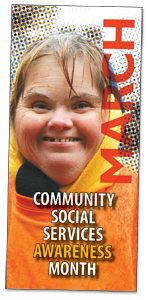 HEU members working in community social services report huge workload challenges as a direct result of short-staffing. And a growing body of research shows how low wages and deterioriating working conditions are making it increasingly difficult for many agencies to maintain a stable, qualified workforce.
Throughout the month of March, HEU members are hosting activities to help build greater awareness of, and support for, the services that we all depend on. Many city councils have passed resolutions designating March as community social services awareness month. 
You can help. Learn more at <www.communitysocialservices matter.ca>.
Materials to support campaign activities

ARCHIVES
Events: WALK for Commmunity Social Services 
Saturday, March 26, 2011- Centennial Square, Victoria 
Walk starts at 11:00 a.m./BBQ at 12:30 p.m.