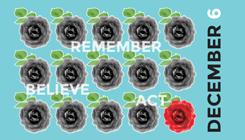 Saturday, December 6, 2014
Who: Community groups, unions, anti-violence activists and advocates, artists, self-defense educators, students, mothers, daughters, sisters, aunties, grandmothers and allies. Audrey Rivers, Squamish First Nations elder, will be invited to open the ceremony.
Where: Thornton Park, Main St and Terminal Ave in Vancouver, at the site of Marker of Change.
When: Saturday, December 6th, 10:30 a.m. to 11:30 a.m. (followed by a Women Transforming Cities Café nearby.)
Where: Holland Park, Surrey, B.C.
When: Saturday, December 6th, 4:30 p.m. to 5:30 p.m.
Check with community organizations, and/or local labour councils, for events happening in your region.
Please download, print out and share our December 6th poster: