Do you know about the new provisions to better support Indigenous workers and reconciliation?
Image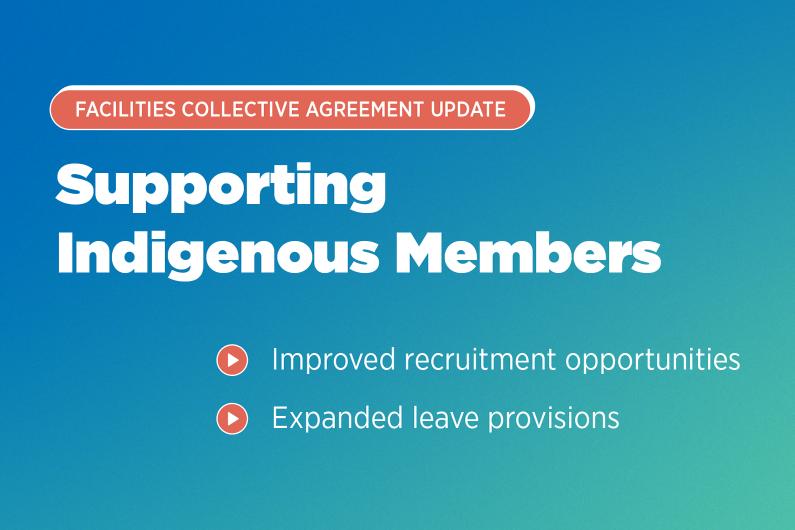 Health care settings should be places of compassion, comfort and care for all. But all too often, Indigenous patients and workers instead encounter racism and discrimination. 
  
As part of negotiation of the renewed Facilities Bargaining Association collective agreement, a joint union-employer Indigenous-specific anti-racism (ISAR) working group discussed the damaging impact of colonialism and identified barriers in providing culturally-appropriate care, as well as opportunities for training, education and career advancement for Indigenous workers. 
Here's the list of provisions the ISAR working group helped develop that now form part of the renewed collective agreement: 
Recruitment and Retention - There is a new process to promote the hiring of Indigenous workers into the health care system that includes recognizing special circumstances where Indigenous candidates may be selected even where they are not the most senior qualified candidate when cultural expertise is required, external funding commitments require such hires, and for leadership or mentorship roles.  
Indigenous Worker Leave - As an Indigenous worker you can now request five days of paid leave for ceremonial, cultural and spiritual events. In addition, those Indigenous members whose cultural practices include an expanded understanding of immediate family can now take bereavement leave consistent with those practices. 
Political Leave - Political leave provisions have been expanded to include leave for Indigenous governing entities. Indigenous members can now take an unpaid leave of up to 90 days to run for band councils, Metis-charted community governments and other self-government arrangements. If elected, you can take up to five years of unpaid leave. 
Provincial Forum - A provincial forum was established to create a culturally-safe health care system by identifying, addressing and rectifying barriers in collective agreements, eliminating Indigenous-specific racism in health care, and increasing the representation of Indigenous workers in the sector. Led by the Indigenous Health branch of the Ministry of Health the forum will include representation from health care unions, employers and other leaders, including elders or knowledge keepers. 
National Day for Truth and Reconciliation - The September 30 National Day for Truth and Reconciliation has been enshrined in the collective agreement as a statutory holiday for all Facilities health care workers. 
This bulletin is part of a series of updates about the renewed Facilities collective agreement. Watch this space for future updates. If you have questions about any of these provisions, please contact your shop steward.