Image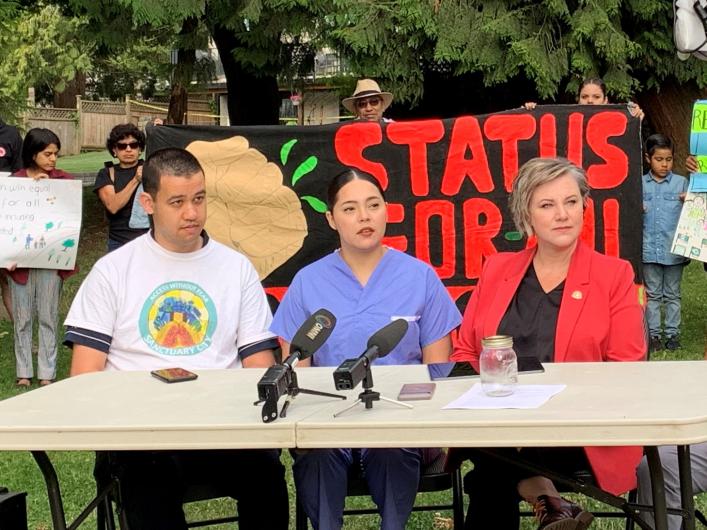 The Hospital Employees' Union (HEU), is urging the federal Minister of Immigration, Refugees and Citizenship, Sean Fraser, to approve the permanent residency application for Claudia Zamorano, a health care worker, and her family members, on humanitarian and compassionate grounds.
Zamorano and her family, including her 9 year-old daughter, arrived in Canada in 2017, fleeing violence in Mexico. As they waited for the refugee application in Canada to be processed, the family started working and volunteering in their community. 
In October 2020, at the height of the second wave of COVID pandemic in B.C., Zamorano began working as a hospital housekeeper in the COVID ward at Royal Columbian Hospital.
"Like all housekeepers in our health care system, Claudia has been on the front lines of infection control, cleaning and sanitizing hospital rooms to keep other health care workers, patients and members of the community safe from COVID," says Meena Brisard, HEU secretary-business manager. "She has put herself and her family at risk of contracting COVID for two years to help keep Canadians safe."
The union joins other community groups, including Sanctuary Health, in urging Immigration, Refugees and Citizenship Canada to apply a broader interpretation of special measures like the now-closed stream for refugee claimants working in health care. The IRCC's narrow application of the program only to workers who provide direct patient care meant that other vital health care workers, including housekeepers like Claudia, were not included in the program.
 
"At a time when our health care system is facing massive staffing shortages, we should not be turning away health care workers, especially those who have contributed and sacrificed so much to help us through a pandemic," says Brisard. 
The Hospital Employees' Union is B.C.'s largest health care union with more than 50,000 members working across the health care team in hospitals, care homes, community services, First Nation's health organizations, and in the health logistics and supply.